First of all, what is it?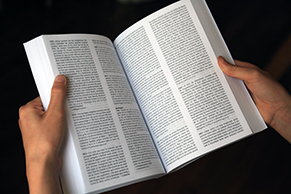 Passage du cinéma, 4992
165 x 240 mm. PlanoPak Weiß 50 gr. (Papyrus). 992 pages.
ISBN 978-2-9544708-0-1. 35 euros. Septembre 2013.
Composition, choix des fragments et montage : Annick Bouleau
Conception graphique : Le Théâtre des Opérations
Édition : Ansedonia, association Loi 1901
"the only book to recount the history of cinema" — Jean-Luc Godard, in the English-language pressbook for Goodbye to Language, p. 22
Not simply a book, but an interactive, multimedia art project by French experimental filmmaker and teacher Annick Bouleau (you can go here for her extensive filmography), the centerpiece of which is a book in French, a copy of which Bouleau was kind enough to send to me. (For the many other aspects of this project and her work, one could easily spend days navigating Bouleau's web site.) It took her a decade to assemble it.

What are the contents of this book (seen below in manuscript form)?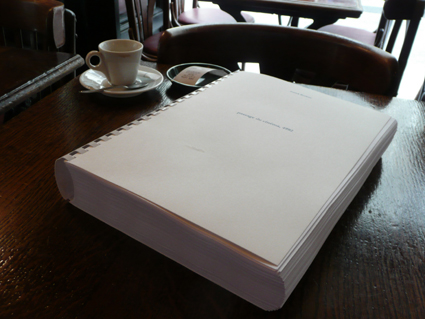 A title page, dedication, acknowledgements, Introduction ("Mode d'emploi"), Table of Contents (an alphabetical listing of hundreds of topics, from "abandon" to "zoom," with corresponding page numbers), and a one-page reader's manual ("Vade-mecum du lecteur"), followed by 967 double-column pages of 4992 entries. 
 What are these entries?… Read more »