From the Chicago Reader (September 19, 1997). — J.R.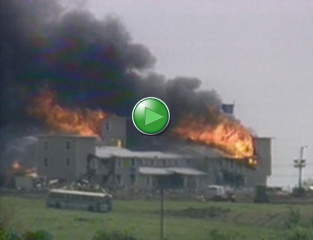 Waco: The Rules of Engagement
Rating ** Worth seeing
Directed by William Gazecki
Written by Gazecki and Dan Gifford
Narrated by Gifford.
At some point in the middle of Dog Day Afternoon (1975) Sonny Wortzik (Al Pacino at his best) — a small-time operator and bisexual who's taken over a bank to finance his male lover's sex-change operation — has to step outside to bargain with the police. When it becomes clear that the crowd of bystanders and media that has gathered is more sympathetic to him than to the armed police, he calls out "Attica!" as a gesture of solidarity with the crowd and against the forces of law and order, which wins him more acclamation.
It's a moment I recalled while thinking about the veiled allusion to the conflagration at Waco made by Timothy McVeigh on the day he was sentenced. This wasn't because McVeigh, who has none of Wortzik's charisma, qualifies as any sort of populist hero. It was because the fact that there can be no equivalence between the Waco disaster and the Oklahoma City bombing was apparently lost on McVeigh, just as the fact that there could be no equivalence between the slaughter of Attica prisoners in 1971 and robbing a bank was apparently lost on Wortzik — not to mention the crowd he was addressing.… Read more »