From Cinema Scope No. 15 (Summer 2003). Needless to say, a good deal of this is dated now, and I've mainly left this in its original form for historical purposes, apart from deleting a few errors. (At least most of the links still work.) — J.R.

It was a tip from filmmaker Françoise Romand that led me to search out Agnès Varda's "DVD store" on Paris's Rue Daguerre early last February, with Australian film critic Adrian Martin along for the adventure. Not knowing quite what to expect, we found ourselves at Varda's storefront editing studio, with an ad in the window for the video and DVD of her wonderful 2000 documentary Les glaneurs et la glaneuse (The Gleaners and I) and a note on the door to ring the doorbell across the street if no one was around. Feeling as if we were in a small town rather than on a street in Montparnasse, we were greeted by Varda at the front door of her house, and a moment later led back across the street by her, where she proceeded to demonstrate the special features of her DVD.
I hasten to add that both The Gleaners and I and its amiable hour-long 2002 sequel Deux ans après (Two Years Later) are readily available from Zeitgeist in North America, but without the extra features —- mainly, I suspect, because Zeitgeist hasn't access to the sort of state funding that has made Varda's deluxe edition possible. What the fancier version offers, along with English (and German) subtitles, is not only some educational sidebars on various paintings of gleaners, information on the legal rights of gleaners, and a couple of more bonus features (including a delightful three-minute hommage to Varda's cat), but an interactive feature allowing one to leap directly from a particular gleaner in Two Years Later to the same person in The Gleaners and I every time a potato logo flashes in the upper right corner of the screen.
Varda went on to explain that she's already in the process of cross-referencing some of her other films on DVD in this manner, but in relation to places (including the Rue Daguerre) rather than people. I began to reflect on how large a role cross-referencing and cross-indexing already has in her oeuvre. Though I used to think there were no common stylistic traits between her work and that of her late husband Jacques Demy — which she has lately been devoting a great deal of energy to restoring and reviving —- it's now becoming clear that this kind of intricate self-referentiality neatly parallels his own charming way of using many of the same characters and actors again and again in his fiction films.
***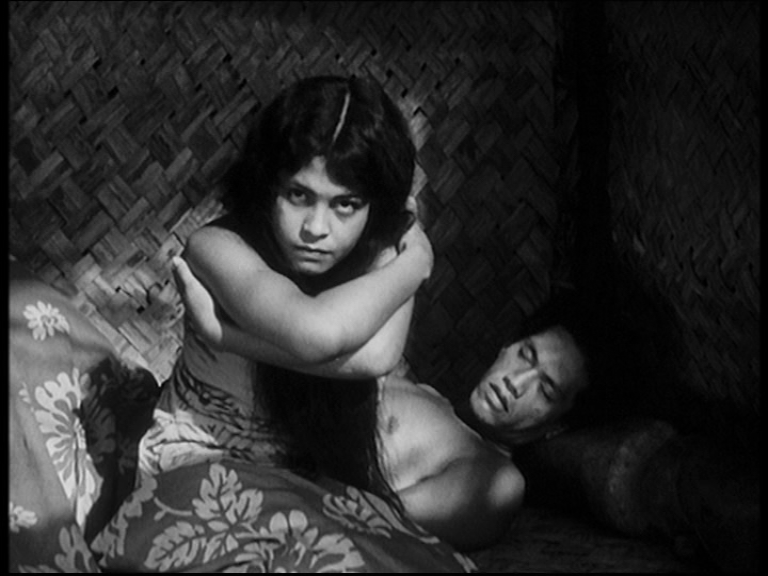 Notes on how to torture fans of F.W. Murnau: Those who've had the benefit of hearing Janet Bergstrom's detailed audio commentary on the Milestone DVD of Tabu (1931), Murnau's last film, which finally clarifies what so many earlier Murnau scholars have mainly hinted at —- the precise roles played by Robert Flaherty in the film's production, and the circumstances that led to his growing estrangement from both Murnau and the film itself -— have had many reasons to look forward to her detailed account of Murnau's earlier lost film, Four Devils (1928) — especially if they've also encountered the remarkable scholarship of her two-part article on Four Devils and City Girl in the French magazine Cinéma (issues 03 and 04, both published last year). News that her Four Devils "reconstruction" with stills, production sketches, and portions of various scripts and treatments would be appearing on a deluxe DVD edition of Murnau's 1927 masterpiece Sunrise therefore made me determined to have it.
But the sadists who work at Fox apparently decided that film lovers like myself needed to be taunted and frustrated for having such a desire. So here's what they did. First they made it impossible to purchase the DVD by any ordinary means, obliging customers to purchase three other Fox "Studio Classics" DVDs, cut out proof-of-purchase labels from each, pay a small additional fee, fill out a form (which thankfully didn't entail signing one's name in blood), sending everything off in the mail, and then waiting for several weeks.
I dutifully followed all these steps, and sure enough, the DVD eventually arrived. I should add that Bergstrom's Four Devils feature alone makes the ordeal dreamed up by Fox executives worth all the trouble, and the DVD in question has quite a bit more: a lovely restoration of Sunrise, with an informed and sensitive audio commentary by cinematographer John Bailey (who also provides optional commentary to Sunrise outtakes) and a choice of the original Hugo Riesenfeld score with sound effects in mono or a contemporary score in stereo; both the original Sunrise screenplay and the original scenario by Carl Mayer with Murnau's annotations; the theatrical trailer for Sunrise; and the original Four Devils screenplay. In short, a cornucopia of invaluable materials. But it's necessary for me to add that my copy was so defective that it literally shut down one of my two DVD players and functioned only partially on the other, so that I couldn't access more than a page or so of any of the screenplays. (Fortunately, I was able to get a replacement after I reported the problem to customer service.).
It's probably pointless to point out to Fox executives that there's an international community of film scholars sorely in need of this material, not simply a parade of faceless customers, so that making it literally impossible for customers outside the U.S. to order it is an act of thoughtless chauvinism, while making it an obstacle course even for Americans seems equally unnecessary. But I hasten to add that Fox isn't the only studio capable of thinking -– or perhaps I should say not thinking —- in this manner. I grimly recall the premiere of the re-edited Touch of Evil that Universal's October Films proudly planned for the Cannes festival in 1998 —- an "exclusive" screening for a limited number of V.I.P.s that would have excluded most of the international press, a tacky display of oneupmanship that was cut short only by Orson Welles's daughter [Beatrice] threatening to sue the festival for showing the film at all without consulting her first, which resulted in the premiere being postponed until Telluride. A tempest in a teapot, perhaps, because virtually everyone on the planet who wanted to see this version of Touch of Evil eventually had an opportunity to do so—-at least after the Universal executive in charge of foreign sales was finally persuaded that a few people outside the United States were interested in Orson Welles. But will international fans of F.W. Murnau ever get the same opportunity to purchase the Sunrise DVD? The answer, my friend, is blowing in the wind.
***
Other recent acquisitions: There's a lovely box set of four early Hou Hsiao-hsien features —- The Boys from Fengkuei (1983), A Summer at Grandpa's (1984), A Time to Live and a Time to Die (1985) and Dust in the Wind (1986), all with English subtitles — available from www.sinomovie.com, and I've heard that a similar collection of subsequent Hou features will be appearing shortly. From Italy, a restored version of Visconti's Il gattopardo (The Leopard, 1963) with English titles can be had from www.medusahe.com, but don't expect any translation on the second disc of extras.
In the U.S., the most impressive recent deluxe edition I've seen from Criterion is its two-disc edition of Tarkovsky's Solaris (1972), containing more concrete information about that film than I've ever been able to find in any other single place….The only bonus on Facets Video's DVD of Miklos Jancso's Electra, My Love (1974), a film I haven't yet seen, is a "production still gallery" —- Facets, like New Yorker, tends to skimp on extras —- but the transfer, judging from what I've been able to sample so far, looks great…. Crossing the Atlantic to England, my second favorite BFI DVD release to date (after the Yuri Tsivian edition of Vertov's Man with a Movie Camera) has got to be Ritwik Ghatak's exquisite and heartbreaking The Cloud-Capped Star (1960), which has the most beautiful soundtrack, including music, of any Bengali picture I've seen.
All the other of my most treasured recent finds have come from France. From www.films-sans-frontieres.fr, there's a terrific edition of Eisenstein's Potemkin (1925) with three possible musical accompaniments as well as The General Line (1928), and a decent edition of Buñuel's Los olvidados (1950) as well as a slightly censored French version of Land Without Bread (1932), with English subtitles available on the first three films. And if you look hard enough, you might be able to find the DVDS from www.editionsmontparnasse.fr of Jacques Tourneur's three Val Lewton features —- Le féline (Cat People, 1942), Vaudo (I Walked with a Zombie, 1943), and L'homme leopard (The Leopard Man, 1943) —- all in English (though most of the accompanying trailers are dubbed into French), as is Albert Lewin's delirious Pandora (Pandora and the Flying Dutchman, 1951) from the same company.
There are also deluxe editions available in France of Nagisma Oshima's Furyo (Merry Christmas, Mr. Lawrence, 1983) and Cy Endfield's Zoulou (Zulu, 1964), though the extras on the former are all in French. The same holds for the excellent new editions of five Alain Resnais features from MK2: Mon oncle d'Amérique (1980), La vie est un roman (1983), L'amour à mort (1984), Mélo (1987), and I Want To Go Home (1988), whose accompanying interviews have no English titles (or any images at all in the case of those with Resnais, reportedly because of his shyness). I'm especially pleased by the availability of the latter two films; the first is surely the greatest of his late works while the second, scripted by Jules Feiffer, hasn't been available in its original, undubbed semi-English version for many years, at least outside Australian TV.