Commissioned and published by DVD Beaver in 2007. In 2015, Ehsan Khoshbakht and I put together a sidebar for Il Cinema Ritrovato in Bologna, Italy, "Jazz Goes to the Movies," and then a reconfigured version of this a few months later at the Festival on Wheels in Ankara, Turkey, which led both of us to revisit many of these titles and releases. — J.R.
Broadly speaking, there are two kinds of jazz films — documentary records of particular jazz performances and narrative films that incorporate jazz in some fashion, in their soundtrack scores and/or in their stories. But in some cases, identifying which films belong in which category is simply a matter of personal taste. Consider, for instance, Black and Tan and St. Louis Blues, two landmark jazz shorts directed in 1929 by Dudley Murphy —- a fascinating figure who straddled the avant-garde and the mainstream, having both collaborated with Fernand Léger on Ballet mécanique and Paul Robeson on The Emperor Jones and directed several Hollywood pictures, and who's been receiving some belated recognition lately thanks to Susan B. Delson's excellent biography, Dudley Murphy: Hollywood's Wild Card (University of Minnesota Press, 2006). I would argue that Black and Tan, which stars Duke Ellington, is important chiefly as a narrative film, whereas St. Louis Blues is mainly important because it features the only appearance and performance on film by the great blues singer Bessie Smith. (Both are available, incidentally, on Hollywood Rhythm Vol. 1: The Best of Jazz and Blues, along with ten other shorts, most of them from the 30s and most of them released by Paramount. Black and Tan is unfortunately included in the Raymond Rohauer rerelease version, which substitutes its own distracting version of the credits while changing the film's title to Black and Tan Fantasy.)
It's also worth pointing out that narrative features such as Round Midnight and Bird also include some documentary records of jazz performances, though the status of these performances is somewhat problematical. The former film has a wonderful lead performance by Dexter Gordon as an aging and ailing jazz musician; but Gordon was aging and ailing himself when he made the film, and his playing is far from his best. So even though much of the music was recorded live, it isn't worthy of its star. And Bird combines Charlie Parker solos with accompaniments by musicians that were recorded decades after Parker's death; these ahistorical combos are pantomimed by Forest Whitaker and other actors onscreen.
I'm still waiting for my all-time favorite narrative film involving jazz to be released on DVD —- Charles Burnett's sublime, 12-minute When it Rains (1995), to be included in a Burnett box currently scheduled to come out from Milestone in August. (February 2015 note: This is now available here.) And maybe I'll eventually get around to writing a list of recommendations for that category. But for the time being, it seems more useful to cite some favorite jazz performances available on DVD. Some of these I've recommended partly for special reasons —- period funk (The Small Black Groups), exciting camerawork (Jazz on a Summer's Day), or interactive features (Trane Tracks). But in most cases, I've picked them for the quality of the music they contain. Sometimes they're live recordings and sometimes (in many of the early examples) they're mimed to playback.
Several of these DVDs have been acquired from European sources, and one facet of the first two of them worth noting is that they're two-sided, all-region discs that play PAL on one side, NTSC on the other. One special advantage of this is that if you acquire a disc that has some technical glitches (especially inconvenient if you're acquiring stuff from abroad) and you have a multiregional player, you can always flip the disc over and play the same tracks you're having trouble with on the other side. (This is precisely what I did recently with Nat 'King' Cole: Soundies and Telescriptions.)

A few more caveats: (1) It's a matter of personal preference rather than any sort of objective judgment that I'm especially interested in piano players, that my taste mainly runs to post-swing, and that I'm generally more partial to Ahmad Jamal and Keith Jarrett playing standards than to these gifted pianists playing their own tunes. Also, I prefer hearing Jarrett in a trio setting than solo. (2) The stock of great jazz performances on film or video tends to be finite, so a lot of the same footage turns up in a good many documentaries; after awhile, you start to recognize them right away, like old friends. (3) You should also be warned that some of the releases I'm recommending can't always be trusted when it comes to listing their own contents accurately.
1) The Greatest Jazz Films Ever. A prime instance of what I mean is this two-disc set originating from Spain, which very nearly lives up to its title, but can't get some of the basic facts about its own treasures straight. No dates are given anywhere in this package, so let me begin with some basic information, most of it culled from David Meeker's indispensable (though out of print) Jazz in the Movies (1977): Jammin' the Blues (Gjon Mili, 1944); Jazz at the Philharmonic (Gjon Mili, unfinished, 1950); Stage Entrance (Bill Seasman, 1951); The Sound of Jazz (Jack Smight, 1957); Theater for a Story (1959); Jazz from Studio 61 (1959). Everything's in black and white.The ten-minute Jammin' the Blues, produced by Norman Granz and shot by Robert Burks (who later became Alfred Hitchcock's favorite cinematographer throughout the 50s), is especially memorable for Lester Young, who appears in the opening shot, seated in his signature porkpie hat, and dominates the proceedings throughout.Though this Oscar-nominated short has been criticized (by James Agee, among others) for its arty pictorial effects and/or its strained and self-conscious jitterbugging, the fact that it preserves the cool essence of Prez for me obliterates any demurrals of this kind.

This two-disc set boasts four bonus songs from this session —- though be forewarned that these "alternate takes" are on audio only —- and claims, perhaps wrongly, to be premiering this short on DVD. Curiously, it makes no such claims for Mili's unfinished Jazz at the Philharmonic, which it is premiering, and which offers the definitive appearance of Charlie Parker on film, playing two numbers with Coleman Hawkins and Buddy Rich (both of whom he clearly enjoys), among others. Scandalously, there are only two sound film recordings of Parker in existence, and this set also includes the other one, made in a far less congenial setting, on the TV show Stage Entrance, where Parker and Dizzy Gillespie perform "Hot House". This clip at least has the advantage of having been recorded in sync (in the other, the musicians are miming their solos to playback, as they most often did in films of this period); it also very fleetingly shows Parker giving a hate stare to the show's host Earl Wilson for condescendingly addressing Gillespie as "Diz". Both Mili shorts are exemplary for the ways they show jazz musicians listening to one another — one of the most cinematically neglected facets of this highly interactive art — and the same virtue is gloriously present in The Sound of Jazz, which offers conceivably the best hour of live jazz ever presented on television anywhere. The opening blues jam with Count Basie, Hawkins, and others should win you over instantly, and subsequent versions of "Rosetta" and "Dickie's Dream" aren't far behind. But the key moment in the whole show for most people, myself included, is the indescribable loving look given by Billie Holiday to Prez when he takes his only solo on the date, between a couple of her own choruses on "Fine and Mellow". Like Dexter Gordon in Round Midnight, Young was far past his peak by this time, yet he holds it all together long enough to offer a beautiful distillation of his art in one chorus, and Holiday's adoration of him as he does so is so palpable you can taste it.

The remainder of this superb collection consists of Theater for a Story and Jazz from Studio 61, both of which duplicate the circumstances of The Sound of Jazz — a relaxed atmosphere in a bare studio setting: Miles Davis with his quintet (including John Coltrane and Wynton Kelly) playing "So What" and Gil Evans' big band playing three other numbers, all classics; and Ahmad Jamal's trio performing two numbers followed by Buck Clayton, Ben Webster, and others jamming on two Ellington tunes. Jamal, who claims to have started playing professionally at the age of 14, was pushing 30 in 1959 but looks barely older than half that age, and his version of "Darn That Dream," featuring some of his hypnotic vamps and his dynamic stop-and-start manner of building riffs, probably offers his best playing on DVD. (For second-best, you should check out the 2003 Ahmad Jamal Live in Baalbeck, which includes an interesting interview with Jamal, and the 1993 Ahmad Jamal Trio: Recorded Live at the Munich Philharmonic, in that order.)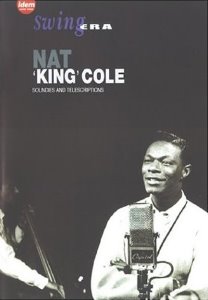 2)

Nat 'King' Cole: Soundies and Transcriptions

. According to the liner notes on this collection of 27 separate performances, many of them with remarkable piano solos, "soundies" are "early film shorts produced for theaters and television". But the few of these that I saw as a kid were actually projected on miniature screens inside jukeboxes, and this is what they were initially made for. (One of my all-time favorites of these is Fats Waller's raucous 1941 rendition of "Ain't Misbehavin'", included on Hollywood Rhythm Vol. 1, where he gives the impression of singing, playing marvelous piano, snapping his eyebrows up and down as if they were suspenders, offering parenthetical wisecracks and asides, and flirting with at least five women, all virtually at once.) According to Meeker, "The Mills Panoram Soundies Machines were rented to thousands of locations across America, mainly bars, hotel lobbies etc. The customer would insert a dime for each three minute selection." Five or six of these films were produced each week until the novelty wore off in 1946, when the prints were sold off to TV and the 16mm home-movie-projection market. The Snader Transcriptions, on the other hand, were made specifically for TV in the early 50s to fill up time slots, and these eventually got sold to the 16mm market as well.
Cole is mainly known today as a singer, but he started out as a highly influential and virtuoso jazz pianist who also sang, mostly with a guitarist and bassist who rounded out his trio, on countless novelty numbers with titles like, "Got a Penny, Benny?" Curiously, he rarely looks at the keyboard while he plays his dazzling solos, typically sitting in a position turned away from the piano and towards the camera (and sometimes microphone), as if he were already schizophrenically split between being a jazz musician and being a pop vocalist. Sometimes bad dancers and other distractions (including other vocalists) turn up, but usually it's just Cole with his trio, occasionally augmented by bongos and/or unseen strings. (When it's strings — as on the mushy final track "Always You," the only one in color —- the guitar and bass still appear briefly in cutaways, but they're completely extraneous, because no one's playing jazz anymore.) And in point of fact, some of the numbers here are neither soundies nor transcriptions but clips from low-budget features such as Breakfast in Hollywood (1946) and Killer Diller (1947) that were made for segregated black movie theaters.

My favorite tune here comes from the former —- the jivey "Solid Potato Salad," only about a minute long —- which begins with a driving piano solo that might take your breath away. By contrast, on "Breezy and the Bass," a rare instrumental, which comes from the latter feature, Cole's occasional comps to bassist Johnny Miller are delightful, affectionate little pokes.
3)

The Small Black Groups

. Both of these aforementioned Cole tracks and seven others are included on this fascinating collection of 22 novelty numbers from the 1940s, taken from soundies as well as black features. (Check out the insane zoot suits worn by two acrobatic dancers in Louis Jordan's 1944 "Jordan Jive," with the musicians appearing in soldiers' uniforms.) The strangest by far are half a dozen live performances by guitarist/ pianist/vocalist Slim Galliard, the legendary composer of "Flat Foot Floogie" — celebrated in Part Two, Chapter 11 of Jack Kerouac's On the Road as the essence of jive, and seen performing here at Billy Berg's club in 1946 with his eccentric trio consisting of bassist and fellow vocalist "Tiny Bam" Brown (often gesticulating and hugging his instrument at the same time) and drummer "Scat Man" Crothers (best known today for his part as the chef in Stanley Kubrick's The Shining, and offering plenty of showy stickwork here).
Galliard was a hipster who liked to attach "o'rooney" to the ends of his words —- an influential tic, judging by Cole's "Oh, Kickeroony" (also in

The Small Black Groups

) —- and to chant the names of different kinds of Jewish food as if they were mantras (as on "Dunkin' Bagels," also included); he also turned up for cameos in Hellzpoppin' (as part of the duo Slim and Slam) and Too Late Blues (scat-singing at a party). The clips here come from an obscure mid-40s musical called O'Voutie O'Rooney, sometimes spelled O'Voutee O'Rooney, that I'd love to see unearthed some day, if only to satisfy my curiosity.
4)

Jazz on a Summer's Day

. For any jazz buffs who find themselves feeling starved at this point for color footage of jazz musicians, apart from homogenized Nat Cole, the only film ever made by still photographer Bert Stern (1960), chronicling bits of the 1958 Newport Jazz Festival, will land you in some kind of heaven. And the lineup includes Thelonious Monk, Louis Armstrong, Eric Dolphy, Chuck Berry, Dinah Washington, Mahalia Jackson, Anita O'Day, Gerry Mulligan, Chico Hamilton, and many others. The funny part is, Stern — who wasn't any sort of jazz buff, at least when he shot this — passed up an opportunity to shoot Miles Davis at the same event. But he sure knew how to make gorgeous use of color. And after some distracting cutaways to boats in the opening sections of this documentary, he eventually buckles down to an intense concentration on the music and the audience's rapport with it as afternoon turns into evening. Jackson's rendition of "The Lord's Prayer" is a particularly luminous highlight. Stern doesn't appear to know or care what distinguishes mediocre from good or great jazz, or even jazz from rock or spirituals, so all of these get some of his attention. But he's very good at showing people listening, whatever or however the music happens to be.
5)

'Rahsaan' Roland Kirk In Europe 1962-1967

. Out of all the great jazz musicians I've been lucky to see and hear live, one of the few whose dynamic presence has almost never come through adequately on LPs or CDs is Roland Kirk — a commanding blind giant and demonic powerhouse whose New York debut at the Five Spot in the early 60s was a kind of miracle. "He makes Charlie Parker look like shit," a friend hyperbolically said to me at the time, and while I couldn't come close to agreeing —- neither of us had in fact ever seen Bird live —- the fact that he said "look" instead of "sound" helps to account for at least some of the hyperbole. Wearing shades, Kirk typically lumbered up to the microphone with three separate large saxophones hanging from his neck (two of them virtually extinct instruments that he'd revived, the manzello and the stritch), like the carcasses of felled animals, which he could play all at once, in unison or in harmony, as well as a siren that he liked to blow into curtly at the end of some choruses, which made them function like giddy musical pivots — not to mention one or more flutes stuffed into the bell of one of his saxophones. And once he started to play, it was like being run over by a friendly locomotive.
Maybe it all sounds like it was a circus act, but Kirk used everything at his disposal to make music, and the same applied when he was simultaneously playing his flute and scat singing, with periodic interjections from his nose flute —- to mention only one of his other favorite orchestrations. All this is finally visible on this DVD of two European concerts, both routinely shot in black and white for TV. In Kirk's 20 minutes in Milan (1962), the fact that he's playing with a relatively mechanical musician, Catalonian pianist Tete Montoliu (who's equally blind), is offset by the two superlative beboppers rounding off the rhythm section, Tommy Potter (bass) and Kenny Clarke (drums). And in Prague (1967), where he's backed by his own rhythm section and plays for 50 minutes, he's every bit as spirited.
6)

Miles Davis Karlsruhe 1967

. A 43-minute concert set with Davis, Wayne Shorter, Herbie Hancock, Ron Carter, and Tony Williams. The black and white image is grainy in spots (and you can find lots of Miles in color, including music videos, if you're a fan of his electronic music), but whoever shot this knew where to place the two cameras. There are some striking moments in the up-tempo "Walkin'" when we're able to watch portions of Williams' and Shorter's solos from two angles at once, deftly superimposed, and when Hancock's solo is briefly overlaid by Williams' accompaniment. Musically, the probable highpoint is the closer, "Gingerbread Boy," which does comparable pairings of Davis and Williams, Hancock and Hancock, and Hancock and Williams.
| | |
| --- | --- |
| | 7) The World According to John Coltrane and 8) Trane Tracks I was lucky enough to see Coltrane's classic quartet several times in the 60s and was always amazed by his total relaxation amid the cascading wails and yodeling fast runs that came out of his tenor or soprano saxophone. He, pianist McCoy Tyner, bassist Jimmy Garrison, and drummer Elvin Jones were completely absorbed, listening to one another so intently that one couldn't help but join them, even in noisy clubs. |
| | | |
| --- | --- | --- |
| | | |
I only have the second of these two excellent documentaries on DVD, which mainly draw from the same pool of taped performances, but both are smart enough to let these play out at some length, without many interruptions. The first, made by Robert Palmer and Toby Byron in 1992, is about an hour long and begins routinely, but then takes off once the filmmakers start cutting between still photographs in sync with Coltrane's "Giant Steps. I haven't been able to trace the director of the British, 80-minute Trane Tracks: The Legacy of John Coltrane, (2005), but can point to one special interactive feature of the DVD: you can access the performances and many of the interviews separately, and the songs can be heard in more complete versions that way, without any cutaways or voiceovers. There are two separate versions each of "Impressions" and "My Favorite Things" included; the second in each case has Eric Dolphy — playing alto sax on "Impressions," flute on "My Favorite Things". But I'm especially taken with the extended, trancelike Tyner solos on the first versions of these two songs.
9)

Johnny Griffin Quartet/Mike Mainieri Quintet: Modern Jazz at the Village Vanguard

. I hope I can be forgiven for concentrating exclusively here on the half-hour Griffin set, which dates from 1981 and perfectly illustrates the following statement from this volatile tenor sax player: "I like to play fast. I get excited, and I have to sort of control myself, restrain myself. But when the rhythm section gets cooking, I want to explode." There aren't many rhythm sections that cook more and swing harder than Ronnie Matthews (piano), Ray Drummond (bass), and Kenny Washington (drums), and if someone wants to argue that "Blues for Gonzi" and "56" — the up-tempo flag-wavers that begin and end this set (with the more moderate "A Monk's Dream," a third Griffin tune, sandwiched in between) — are taken too fast, they should go right ahead and do so; but neither Johnny nor I will pay them any mind.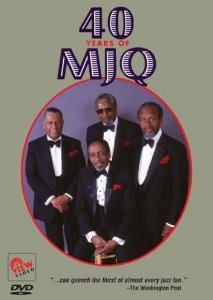 10)

The Modern Jazz Quartet: 40 Years of MJQ

. Five years before this 1992 concert in Stuttgart was released, the MJQ's 35th Anniversary Tour — another hour-long concert, recorded in Freiburg —- came out. Ordinarily, I would have opted for the 1987 DVD, which features the classic quartet (John Lewis, piano; Milt Jackson, vibraharp; Percy Heath, bass; Connie Kay, drums) without frills. This one has Mickey Roker serving as temporary replacement for Kay, who was ailing at the time, and also has Patrick Strub conducting the Chamber Orchestra "Arcata" Stuttgart, backing up the MJQ in Lewis's own charts. Paradoxically, this concert isn't just more like classical music; it's also more like jazz. At both events the aging quartet members in their tuxes look rather like gravediggers, as they tended to do whenever they performed together, but they're in better form in Stuttgart.
The vibraharp is one of the few musical instruments that it's virtually impossible to play without dancing, and Jackson, even in the reticence of his conserved energy, makes it all seem completely effortless on both dates, but he swings more at the later event, and you can see this in his body language as well as hear it in the placements of his notes. And Lewis's solos have rarely been more brightly and brilliantly crystalline. Check them both out on "Three Windows" (actually a suite of almost all the tunes used in the MJQ's soundtrack score for

No Sun in Venice

) and "Sketch," with its great stop-time stretches. These are the first two numbers, and if the remaining three are somewhat anticlimactic, that's the down side of achieving perfection.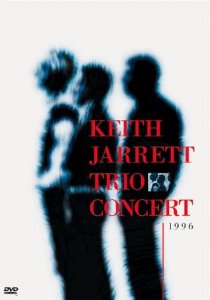 11)

Keith Jarrett Trio Concert 1996

. It seems like all the Jarrett concerts on DVD are class acts, so it's hard in some ways to choose between this one, recorded in Orchard Hall in some unnamed city (is it Tokyo?), and the equally sprightly (and no less obscurely placed) 1993 Live at Open Theater East. The best track on the latter is probably the very Milesian "Bye Bye Blackbird," with a neat Gary Peacock solo and a couple of triumphant cries of Jarrett towards the beginning and end of the number that show just how wrapped up he can get in the music. But I still prefer the 1996 date because of what he manages to do with both "I'll Remember April" and the equally rhapsodic "Autumn Leaves". "April" begins with a remarkable drum solo by Jack DeJohnette; on this number, he manages to become the de facto leader of the group with his fancy patterns, as Jarrett's near-ecstatic laughter at one point seems to acknowledge.
Jarrett's own Jamal-like riffs and ringing, cascading lines seem to grow directly out of this inspiration. The pianist's habit of either almost standing up when he gets carried away or, conversely, retreating into a pretzel-like crouch, isn't exactly a dance in any normal sense; yet combined with the contorted facial expressions and falsetto singing that accompany his solos, they suggest a feeling of abandon that might be associated with dance or sex or something equally unbridled. It's all there in the music, of course, but seeing as well as hearing it tells you at least a little something about where it's coming from.